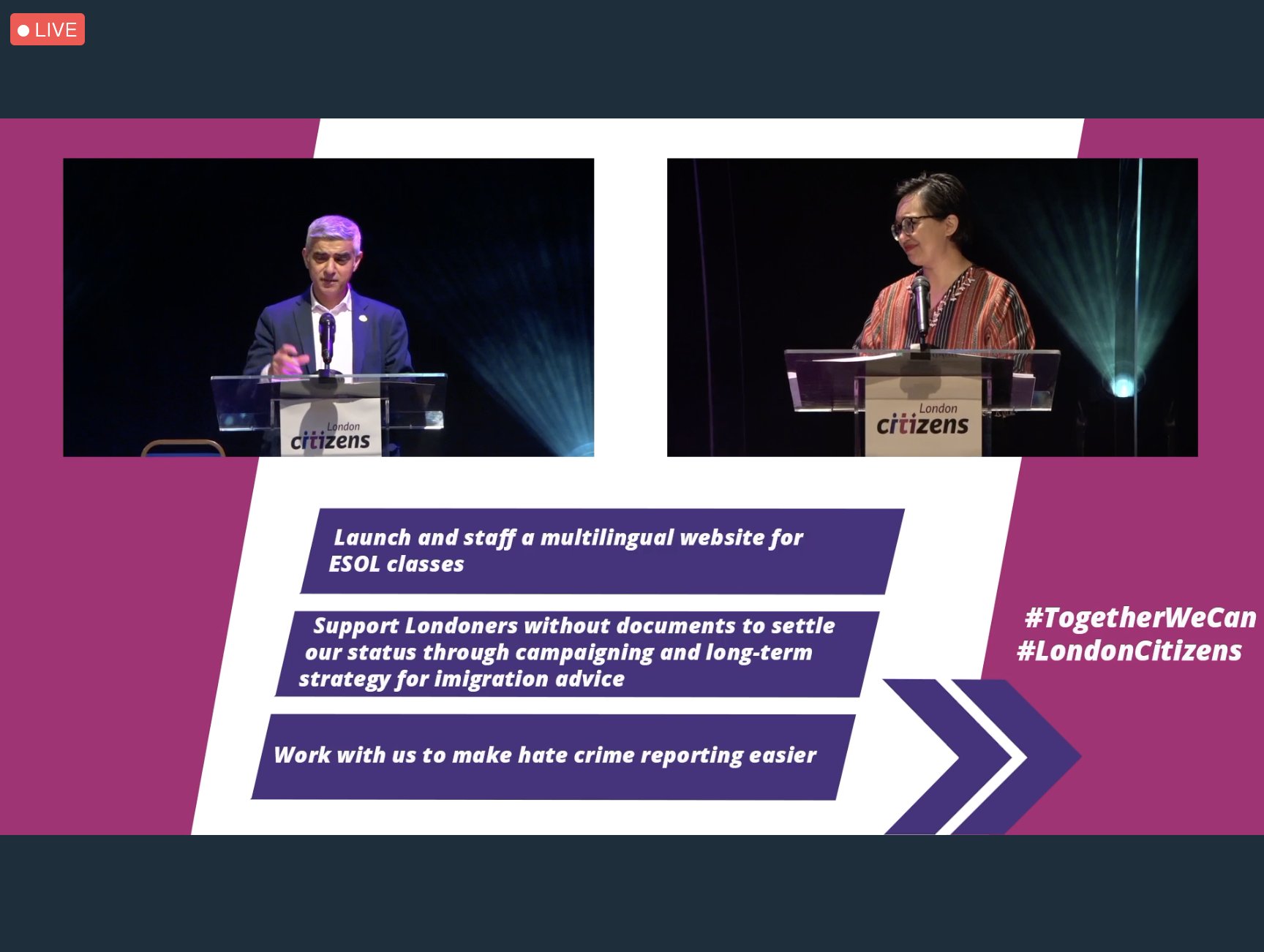 For immediate release
The #LoveESOL coalition of 32 organisations calling on the next Mayor of London to improve access to vital English classes has succeeded in getting commitment to a comprehensive website from mayoral candidates Shaun Bailey and Sadiq Khan. The coalition, comprising English for Speakers of Other Languages (ESOL) students and providers, unions and migrants' rights groups, says that fewer than 14% of migrants in need of ESOL classes are currently accessing them.
The #LoveESOL coalition presented its campaign ask at the London Citizens Mayoral Accountability Assembly yesterday evening with mayoral candidates Shaun Bailey and Sadiq Khan. Both candidates gave a firm commitment to launching and staffing a multilingual website for ESOL classes, in front of an audience of over 5,000 viewers.

ESOL provision has seen cuts of over 50% in the past decade, with waiting lists now reaching 1,000 people. Alongside prohibitive costs, restrictive eligibility criteria and lack of clarity on where to find information on classes, this means many migrants are missing out on provision.
Adela Belecova, an ESOL teacher and the #LoveESOL Campaigning Coordinator said: 'For many migrants, not being able to improve their English is not only a barrier to finding good work, supporting their children and living a full life, but can also leave them vulnerable to exploitation at work. If we could ensure better provision of classes and information on where they are happening, as well as relax restrictions about who can attend, it would improve many lives and make London more inclusive.'

Having collected the views of hundreds of students and providers, the #LoveESOL coalition has been calling for a regularly updated, staffed website that aggregates information about all classes available in London. The campaign has also been collecting signatures for an open letter with this ask to current Mayor of London, Sadiq Khan, with over 790 signatures collected to date.



Quotes from ESOL students
Yousif (from Sudan), New City College Tower Hamlets student said:
'Now that I'm studying ESOL, I feel more confident. I came here as a refugee and I don't have family here, so I need to make friends. I have a degree back home in Mechanical Engineering, it's what I want to do, but I can't share this knowledge without language.'

Menal (from Iraq), English for Action ESOL student in Lambeth said:
'When I first arrived in London, my new home, I felt shy and shamed. People struggled to understand me. I wanted to learn English but I didn't know where to find a class. It's really difficult to find courses, especially if someone doesn't speak English very well. It took me three years to find an English course.'
Nabila (from Algeria), English for Action ESOL student in Hackney said:
'ESOL is not just important for me, I think that it is very important for anyone who comes to the UK from elsewhere and wants to live and work in London. They absolutely need English. When I came to London one year ago, it was very difficult to find a school or centres that offered free English lessons. I didn't find information and all I could find were private schools and it was very expensive for me as I was new and not yet working. It took me six months of staying home with nothing to do to find a class. When I learned about an ESOL class through a friend, I signed up and ever since I have been taking lessons. It has helped me a lot. I am thankful to ESOL and support the #LoveESOL campaign.'
ENDS/
Contact: For further information, please contact Amira, Communications Officer for English for Action on 07857975671 or amira@efalondon.org
Spokespeople available for interview.
Note to editors:
The #LoveESOL coalition was created in 2017 with the aim of engaging with policymakers to call for more funding from the government because it believes ESOL is a vital public service that benefits everyone, not only new arrivals. For further information on the coalition and to sign the open letter, please visit www.loveesol.co.uk and search for the hashtag #LoveESOL on social media.


The #LoveESOL coalition has been organising annual events on the European Day of Languages, 26th September. It has also worked with Deputy Mayor for Planning, Regeneration and Skills, Jules Pipe, and Deputy Mayor for Social Integration, Social Mobility, and Community Engagement, Debbie Weekes-Bernard to improve ESOL provision in London.


Members of the #LoveESOL coalition include National Association for Teaching English and Community Languages to Adults (NATECLA), Citizens UK, Independent Workers Union of Great Britain (IWGB), Doctors of the World and the Coalition of Latin Americans in the UK (CLAUK).
 English for Action provides English for Speakers of Other Languages (ESOL) courses for adult migrants in communities across London, campaigns on issues affecting migrants and supports students to take action on issues that impact them through community organising training. English for Action aims to reach people who may miss out on mainstream ESOL courses and believes that ESOL classes can enable people to access the social, economic and political benefits that would be out of reach without language training and support.
For more information about English for Action, a founding member of the coalition and provider of free, action-orientated ESOL classes in community locations across London, please visit www.efalondon.org. English for Action is also on social media with the handle @efalondon